Nina's Notes is dedicated to helping faculty and teachers to use learner-centered practices in their instruction.  I learned to teach with learner-centerd approach as a part of  my Learning Sciences and teacher education in University of Jyväskylä, Finland, and have been promoting it ever since in all levels of education.  Today, learner-centerdness is more important than ever before!
Learning and being taught are two very different experiences. In learner-centered education students are seen as subjects of their own learning instead of being the objects of instruction, thus emphasizing the voice and choice of students – which makes learner-centered approach the IDEAL one for deeper, permanent learning to happen.
Learner-centered ideology is not a new invention, it has been around for a long time.   Already in 1945 McKeachie wrote about education that empowers students to learn more, stating that a "further dimension upon which student-centered and instructor-centered classes differ is in the degree to which the student feels he can influence his own fate" (p. 145). Respecting learners' autonomy is a good point to start learner-centered instruction.
Intrinsic interest in learning is the beginning.  We must support sudents' engagment in their own learning processes because intrinsic motivation to learn (learning because we are interested in doing it) is much stronger predictor for future educational success than extrinsic motivation, which is associated with surface and strategic learning approaches. Learning engagement is generally more enjoyable experience than just being taught something. (There is a LOT of research published also why professional learning is so much better than professional development, but let's not get too deep into that! Suffices to say that teacher agency is crucially important for learner agency. Here is a good link: REL Pacific)
Dispositions of teachers and faculty is the next building block because dispositions determine how we instruct and support students (Thornton, 2006,p. 63).  Believing that everyone can learn is one of the fundamental dispositions in contemporary education. This belief doesn't always seem to fit perfectly with standardized testing, or labeling schools (and sometimes even students) as "failing", based on a quantitative snapshot evaluation that tells very little if anything about the learning process (the learning quality). Learner-centered dispositions also focus on SEL: social-emotional learning. It is important for us to know and understand how to support our students as whole human beings. I tweet about SEL with my own images like the one below.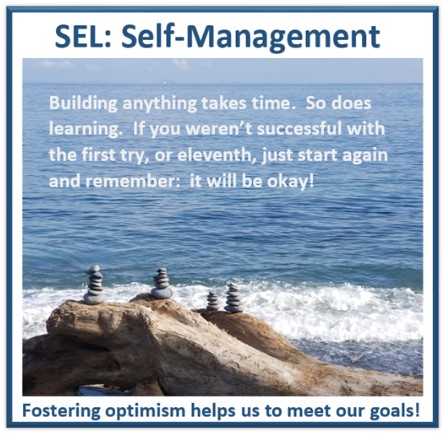 Learning environment is the next part. Acknowledging the individual and sociocultural factors in education is foundational for learner-centered learning environments. Learning doesn't happen in a vacuum, but is situated in the culture and environment, and based on the interactions between the student, instructor and materials, contextualized either in traditional or online learning environments. Decidecly build a learning environment that supports metacognition – the awareness and perceptions we have about our own learning. Explicitly teaching metacognitive knowledge and skills is an important part of supporting deep learning. We educators should have extensive knowledge and skill to embed metacognitive learning strategies into our learning experience design. Engaging in Professional Learning with colleagues to practice Self-Regulated Learning is a great idea!
Agency is the capacity for self-transformation, situated in the social structure (classroom, online learning environment).  Distinguishing engagement in learning experiences from the educational experience of being taught is essential for understanding learner agency. Individual judgment, self-determination, and problem solving skills are in high demand – and these can be fostered with learner agency by providing choices for students to support interest, agency and deep learning. Self-determination (Nemiec & Ryan, 2009) is a basic human need, so while designing learning experiences, please remember to include design elements that help students want to engage:
Autonomy – have choices and be an agent of one's own life and learning
Competence – reach goals and move towards meaningful growth
Relatedness – connect and interact with others
We can empower students to learn by emphasizing ACRs. Alas, it is harder for students to learn to use their self- determination in compliance-driven learning environments.
Compliance demands also harm students' Lifelong Learning interests. Bringing the individual learning experience to the forefront of discussions will help to make the shift in teaching and learning. An important question to ask is: how does this learning experience relate to students' lives outside of the education system?  If students can't find a clear connection between their lives and what they are learning at school, something is terribly wrong, and we are not helping them to become life-long learners, or preparing them for life in future societies.
It is important to note that a learner-centered approach is neither a curriculum nor an instructional design model.  It is a framework compatible with all kinds of curricula. American Psychological Association (APA) has conducted and gathered extensive research about educational psychology and learner-centered practices (APA, 1990, 1997), and created principles to guide educational decision making, both for faculty and the stakeholders. These principles are not a modern fad, but "consistent with more than a century of research on teaching and learning" ( APA, 1997, p. 2).
The collection of 14 psychological principles was created with research data gathered from over 20,000 students and teachers (McCombs, 2001).  We should use the data that has been gathered in classrooms and let it guide both education policies and instructional design. I have blogged about this in Notes From Nina, where the 14 principles are discussed more thoroughly.  In 2015, APA  updated their guidelines using  research about latest educational psychology and supporting deep learning in classrooms. This was published as the Top 20 principles for PreK-12.  It is a good read for anyone who aspires to teach, whether instucting in classroom or university settings, or training employees in business, because deep learning in all levels of education happens in similar ways. Here is a concise table I made of the 20 principles. Everyone who works in higher education should read the APA guide to College Teaching. It has excellent insight into how students learn and how we can support that learning.
Using learner-centered practices is needed for creating learning-centered educational cultures. Understanding that learning is an internal (cognitive) process leads to very different instructional choices than viewing learning as a defined product or (behavioral) outcome as proof that knowledge transfer and acquisition have occurred.
American Psychological Association, Coalition for Psychology in Schools and Education. (2015). Top 20 principles from psychology for pre K–12 teaching and learning. Retrieved from http:// http://www.apa.org/ed/schools/cpse/top-twenty-principles.pdf
American Psychological Association, Work Group of the Board of Educational Affairs (1997, November). Learner-centered psychological principles: A framework for school reform and redesign. Washington, DC: American Psychological Association. Retrieved from: http://www.apa.org/ed/governance/bea/learner-centered.pdf
Illeris, K. (2003). Towards a contemporary and comprehensive theory of learning. International journal of lifelong education, 22(4), 396-406.
McCombs, B. L. (2001). What do we know about learners and learning? The learner-centered framework: Bringing the educational system into balance. Educational Horizons, 182-193.
McKeachie, W. J. (1954). Student-centered versus instructor-centered instruction. Journal of Educational Psychology, 45(3), 143.
Niemiec, C. P., & Ryan, R. M. (2009). Autonomy, competence, and relatedness in the classroom: Applying self-determination theory to educational practice. School Field, 7(2), 133-144.
Smith, N.C. (2017). Students' perceptions of learner agency: A phenomenographic inquiry into the lived learning experiences of high school students. (Doctoral Dissertation).  Northeastern Repository
Thornton, H. (2006). Dispositions in action: Do dispositions make a difference in practice?. Teacher Education Quarterly, 33(2), 53-68.